concept of cameracartell
Cameracartell is an international Artist-group, based in Germany, which commits itself to artistic exchange and a work dialogue in the fields of video art, video installation and experimental film.
Cameracartell is defining itself as an organic platform with a rhizomatic structure: approachable from different perspectives, not defining a pre-determined form and in combinations consistently variable. A heterotopy, which is operating between spaces and which is combining and merging contemporary positions between art and film. In regular intervals  Cameracartell is opposing cinematic-artistic positions, accompanied by a range of discourses that are fathoming applied themes together with theoreticians and authors. Presentations are happening in different contexts, in galleries, cinemas or museums, in public spaces or in between.
developed by Marte Kiessling (Berlin), Stephanie Sarah Lauke (Cologne)  and Vanessa Nica Mueller (Hamburg)
::::::::  german version/ deutsche Version  :::::::::::::::::::::::::::
Cameracartell ist eine internationale Künstlergruppierung, mit Sitz in Deutschland, die sich dem künstlerischen Austausch und Werkdialog im Bereich Videokunst, Videoinstallation und experimentellem Film verschrieben hat.
Der Begriff des Kartells wurde in seiner Bedeutung dahingehend transformiert, dass Cameracartell in seiner Vorgehensweise Strategien der Marktwirtschaft aufgreift, um sich diskursiv in künstlerischen Prozessen zu verbreiten und zu präsentieren. Cameracartell definiert sich als organische Plattform mit rhizomatischer Struktur: aus unterschiedlichen Blickwinkeln zugänglich, keine festgelegte Form beschreibend und in ihrer Künstler- und Werkkonstellation immer wieder variabel. Eine Heterotopie, die zwischen Orten agiert und zeitgenössische Positionen zwischen Kunst und Film kombiniert und neu zusammenführt.
In regelmäßigen Abständen werden filmisch-künstlerische Positionen gegenübergestellt, begleitet von einer Reihe von Videodiskursen, in denen gesetzte Themenfelder mit Theoretikern und Autoren neu ausgelotet werden. Präsentationen finden in unterschiedlichen Kontexten statt z.B. in Galerie, Kino, Museum und im öffentlichen Raum.
initiiert von Marte Kiessling (Berlin), Stephanie Sarah Lauke (Cologne)  und Vanessa Nica Mueller (Hamburg)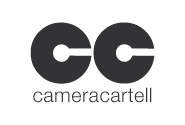 v @ Juni 12, 2008